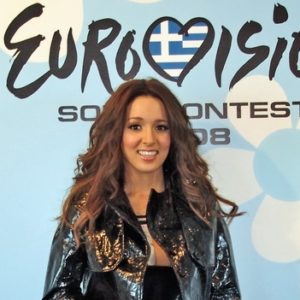 Greece's choice of representative, has, for the last few years, drawn a lot of attention from all around Europe.  This year's selection was no different, the high quality, if a little drawn out show, was well received by many.
The well known Maggira Sisters were the hosts of tonight's Greek National Final.  The voting proceedure was a jury/public vote which was split 40/60 in favour of the public.  The guest list for the show was jammed full of 2008 ESC contestants.  Azerbaijan, Cyprus, Slovenia and Romania were all represented at the show by their representatives at this year's contest.  Of course Sarbel (Greece 07) was also there to promote his latest songs and sing his 2007 entry.
The most important feature of the production was ultimately the songs and while there were only three entries they were all of a very high musical standard.  Chryspa's song had the typically Greek Euro-pop sound.  The performance was slightly affected by a sometimes weak vocal.  Kostas Martakis was then on stage to present his wares and had a spiced up version of his song to show the audience.  The last finalist was Kalomira, who was probably as likely to get the ticket as Dustin was in Ireland.  The girl has quite a high profile in Greece.  She sang her song with great gusto and four male backing dancers.
The jury and Greek public chose Kalomira as the singer to represent Greece at the Eurovision Song Contest.  She will sing the song 'Secret combination' in the first semifinal on May 20th, she will have to be voted into the top nine by the televote or be the highest placed non-qualifying jury choice.
http://ie.youtube.com/watch?v=hlGQ7VUjxVU
In my view
Good song for Greece, it will probably be quite succesful, but then Greece is nearly guaranteed a good placing.

The opinion expressed in "In my view" are those of the author and are not necessarily the one of EuroVisionary.com.