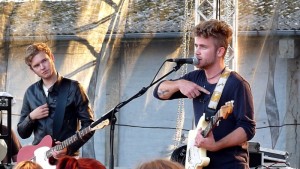 After returning home from Düsseldorf with a 5th position A Friend In London have been busy touring the country while preparing their first album. Judging from a concert at the Danish Sankt Hans celebrations we have something to look forward to with that album. 
Every year the 23rd of June it is Sankt. Hans (Named after John the Babtist's Danish name) evening in Denmark, their midsummer celebration. The most essential part of this evening is the traditional bonfire where an artificial Witch is being burned. This year one of the celebrations in Aalborg, Denmark ended with a concert by A Friend In London. 
Despite it being for an audience of just a few hundreds people the band had no problem with their motivation. They communicated well with the audience that loved them for their energy. Their Eurovision Song Contest entry New Tomorrow had for this concert turned into being 8 minutes long including the leadsinger Tim Schou stagediving while filming with a videocamera.
During the concert the leadsinger also told about his new obsession; finding as many songs as possible, which sounds similar to New Tomorrow. This is a reference to all the accusations about plagiarism they ran into right after winning the Danish final, the Dansk Melodi Grand Prix. First it was a copy of Andreas Johnson's Sing For Me from the Swedish national selection in 2006, then it was a German song it was inspired a bit too much by, Take That's Shine was mentioned as well together with a Japanese song. Since that several more songs have been mentioned as being the original version of the 2011 Danish entry and for Tim it is now an obsession. He told the audience that for every concert he will add one more to the list!   
After the concert people lined up for autographs and pictures. As with most boybands the queue consisted of girls in the age 15 to early 20's. Some wanted their picture taken with the entire band while others only wanted leadsinger Tim Schou next to them. The band was relaxed and took their name to please the fans who all must have had a good evening. 
During the autumn we should expect the first album from the band that finished 5th in Düsseldorf and this concert shows that they have a lot to offer in terms of quality in their music.
In our gallery you can see pictures from the concert.