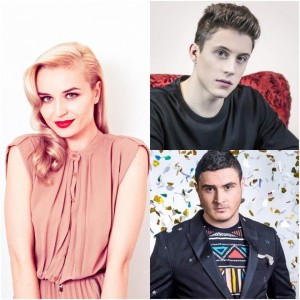 Israel's Nadav Guedj is the 'Golden Boy', Belgium's Loïc Nottet has the 'Rhythm Inside' and Russia's Polina Gagarina will sing 'A Million Voices' on the Austrian stage this May.
Israeli artist Nadav Guedj is just 16 years old and is heading to Vienna with the track Golden Boy. Written by Doron Medalie it is a distinctive pop and Middle Eastern flavour. With live television performing experience having won the TV talent show Rising Star, Nadav is performing in the second semi final.
Russian popstar Polina Gagarina will be performing the track A Million Voices. Polina is also a TV talent show alumnai having won the show Star Academy. There have been multiple writers on this song with Swedish, Russian, Australian's all playing a part in the creation of the track. The main credit goes to Dimitris Kontopoulos. The full version will be made available soon.
The Voice Belgique singer Loïc Nottet has been managed through this journey Sony Music Entertainment. Following in the footsteps of Roberto Bellarosa at Malmö 2013 the Belgian television network RTBF opted to again turn to a singer from The Voice format to choose its entrant for this year.
Stay with Eurovisionary on the road to Vienna
You may also like to read:
To see the official video for Golden Boy click below:
To see the video for Rhythm Inside click below: