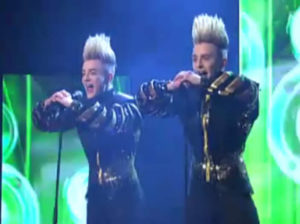 In a late Friday show Ireland picked its participant for the 2012 Eurovision Song Contest. Jedward was favourite to do the double and represent the country twice in a row, but up against 4 other strong acts, one of them being Donna McCaul, another one with Eurovision experience it didn't look like a walkover. 
Irish broadcaster RTÉ had sticked to the format with selecting 5 mentors who would then be responsable for finding each their act and prepare them for the national final, that was held late Friday evening as a special edition of the well known TV programme The Late Late Show.
With two of the five participants previously having represented Ireland at the Eurovision Song Contest it was a very interesting line-up that was waiting for the viewers tonight.  
The songs (You can read more about the participants in our Get To Know article):
1. Maria McCool – Mistaken (Written by: Edele Barrett – Mentor: Edele Barrett)
First participant on stage tonight was Maria McCool with the Celctic song Mistaken. She has a really good voice and this mysterious tune will be highly appriciated by many fans. 
On stage Maria is dressed in a long black dress. She stands in a circle of fire and two fire dancers are standing next to her.  In the background we find a drummer and two backing singers. Through most of the song the stage is kept very dark making it hard to actually see Maria, but towards the ends it gets lighter.  
2. Donna McCaul – Mercy (Written by: Marten Ericsson, Peter Mansson, Lina Ericsson, Bill Hughes – Mentor: Bill Hughes)
Next on stage is Donna McCaul, who represented Ireland at the 2005 Eurovision Song Contest. Back then she performed with her brother, but she is now ready to stand on her own feet with this dance pop song titled Mercy. Since 2005 her voice has matured a lot.    
Donna is wearing a silver cardigan over tight black leggings and a black top. A black belt is added as well. She is accompaignied on stage by two female backing singers and the performance is kept rather simple. Donna herself is standing on a podium sized 2 x 2 metres aprx. and half a meter high. She is not moving much around. 
3. Andrew Mann – Here I am (Written by: Greg French – Mentor Greg French)
We continue with the rock ballad Here I am performed by Andrew Mann. The song builds up nicely, but it somehow doesn't quite use its potential. It is well produced though and Andrew sings it well.
Andrew went on stage after an advert break and Andrew was ready. He was dressed i dark trousers and jacket and had a full band behind him in terms of a drummer, a keyboard player and two guitarist. The background was mainly kept in red and yellow giving a fire and rock image.    
4. Úna Gilbey & David Shannon – Language Of Love (Written by: Eanan Patterson, Julian Benson – Mentor: Julian Benson)
We continue with a simple pop ballad, which is easy to sing a long to and also quite easy to remember. Their voices matches each other really well and if there is anything like a classic Eurovision ballad this must be it. We have seen and heard it many times before, but does that matter?
Act four is a male/female duo where they are in front of eveything on stage. She is dressed in a dress short at the front and long at the back. He is in a suit, which makes them both very classic dressed. Behind them is a drummer, two guitar players. They are all standing on small podiums, which vary in hights. 
5. Jedward – Waterline (Written by: Nick Jarl – Mentor: Linda Martin)
Last ones of the participants to perform is Jedward, who represented Ireland last year in Düsseldorf with the song Lipstick. Their song tonight is quite different as it is a more straightforward uptempo pop song taken straight out of a Swedish selection. Jedwards are no Eric Saade although it has to be mentioned that their vocal performance appeared a bit stronger than last year. 
As always Jedward's apperance stands out and tonight was no exception. They were dressed in a black and golden outfit reminding a lot of the one from Eurovision Song Contest 2011 just in different colour and slightly updated, also the energy with the jumping around and the different camera ancles are the same. Behind them are two female backing singer and two male ones a few steps more back.  Pyrotechnics are used a bit over half way through.   
The show:
Tonight's Irish national final held as a special edition of The Late Late Show was hosted by Ryan Tubridy. He started out with a quiz where one should answer who sang the 1980 Eurovision Song Contest winner What's Another Year. Was it Johnny Logan, Terry Wogan or Larry Gogan? That should not be difficult to answer.
After that quiz intro it was time to present the Irish commentator, Marty Wheelan joined the host for a talk about the Eurovision Song Contest.  Together they took a trip down memory lane as they showed clips from the so far 7 victories. One of them, In Your Eyes, was sung by Niamh Kavanagh in 1993 – and she was next guest in the talkshow studio. In 2010 she went for a comeback with the song It's For You, which finished third to last in the final. Clips from international Eurovision artists was shown. That included Cliff Richard, Sandy Shaw, Julio Iglesias, ABBA and Celine Dion.
Hollywood actor Martin Sheen joined the studio after all the participants had performed and two re-caps had been shown. Just as expected this conversation had nothing to do with the Eurovision Song Contest.
Clips from the chosen songs from Denmark, Norway, Albania, Malta and Latvia was shown and in particular the refering to Johnny Logan in the Latvian song brought applauase in the studio. After that we were treated with a performance from Brotherhood Of Man singing their 1976 Eurovision Song Contest winner Save Your Kisses For Me.     
The result:
The result was determined by a combination of televoting and 5 juries. Voting wasn't allowed until the lines opened, which took place just after all the songs had been performed. At the same time a re-cap was shown.
Marty and Niamh was asked about who they prefered. They pointed at Jedward and Donna McCaul. The final result can seen below, but winner is Jedward singing Waterline. 
Jury:
Song nr. 1: 20
Song nr. 2: 44
Song nr. 3: 44
Song nr. 4: 38
Song nr. 5:  54
Televoting:
20 points for song 4
30 points for song 1
40 points for song 2
50 points for song 3
60 points for song 5