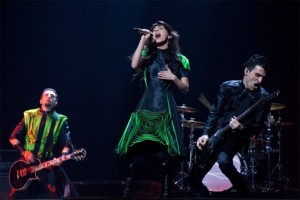 Georgia had a first rehearsal that they were extremely contented with. Would their second rehearsal prove to be equally successful and give Eldrine the chance to sing One More time in the final on the 14th of May?
The group have opted to keep their same outfits, two long leather trenchcoats for two of the guitarists which reinforce the Gothic image of the band. The lead singer Sophio's dress also features bursts of green, matching one of the guitarists. The keyboardist looks unkempt with high hair. 3 guitarists seems a bit excessive, but are needed to beef up the sound of the song One More Day.
The staging is simple, with the stage being submerged in black, pierced by dark blue shafts of light, before images of high almost classical windows and columns are projected onto the screen. Over the stage, white lamps flash, creating something of a lightning effect, which adds to the dark, sinister sound of the song, a wind machine also made its appearance.
The presentation is electric, literally, with the 3 guitars really amplifying the sound and giving this rock number a hard edge. The male/female vocal is slightly reminiscent of Evanescence. Sophio impresses with an expressive voice, the male guitarist less so, some of his vocals coming across as mere shouting.
During the final run through, pyro effects were used and these worked a treat, with sparks flying up from around the edge of the stage, leaving columns of smoke in their wake creating yet another interesting effect.
In my view
Another solid rehearsal which the Georgian delegation should be very happy with, and if things continue like this, Eldrine should be in line for a place in the final. Not normally a fan of this genre, but they turned in a convincing performance and Sophio has a demanding stage presence many of the other competing artists surely envy.

The opinion expressed in "In my view" are those of the author and are not necessarily the one of EuroVisionary.com.