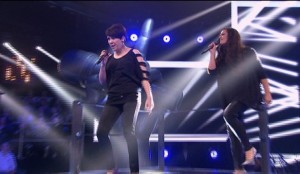 In the first battle round of Voice – Danmark's Største Stemme, Ida Lohmann, Danish 2000 finalist, made it through to the live shows by beating her opponent in a very equal duet. Their judge and coach, Aqua's Lene Nystrøm, had a hard time deciding between them. 
In her audition Ida Lohmann got through to the battle round as Lene Nystrøm turned around in the last few seconds and in Sunday evening's battle it was so tight that it appeared as a bit of extra luck that brought her to the next stage of Voice – Danmark's Største Stemme. 
Ida, who participated in the Danish final, the Dansk Melodi Grand Prix, in 2000 singing Mayday Mayday had for this battle been paired with Mette Uhrnfeldt. They were to sing a duet – which worked as a knock out duet – as only one of them could continue in the show. Their coach Lene Nystrøm from Danish pop band Aqua had decided that they should sing Fighter by Christina Aguilera, which turned out to be a song fitting both of them.
Before Lene were to make her decision on who of them she would continue with the three other judges were asked for their opinion. How tight it was Liam expressed very well: "You complimentet eachother really well. I had difficulty hearing what one could, which the other couldn't". Lene Nystrøm also said that they both were good, but she decided on Ida due to the clearness in her voice.
Ida Lohmann is one of two former national finalists to take part in this first edition of Voice, that is of Dutch origin (The Voice of Holland). Earlier we saw Claus Hassing not making it through his audition. In 2008 he participated in the Danish final with the song Come On Over. 
On broadcaster TV2's website you can see the video of the battle between Ida Lohmann and Mette Uhrnfeldt.