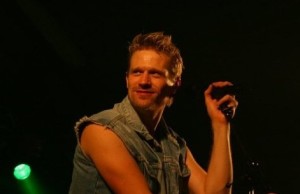 A week ago the Danish TV viewers saw Ida Lohmann, Danish finalist from 2000, make it through to next phase of The Voice in Denmark. Saturday evening another former Melodi Grand Prix participant tried his luck in the same talent show, but lost as the judges were expecting more from the 2008 finalist, Claus Hassing.  
Ida Lohmann and Claus Hassing have quite some things in common; they are both from the area around Aalborg in North Jutland, both have participated in the Danish final, the Dansk Melodi Grand Prix and now they have also both tried to see if the new talent show; "Voice – Danmark's Største Stemme", could bring them more succes than the Danish final did. But here the similarities ends as Ida made it through to the battle phase that comes next where as Claus Hassing had to leave the audition knowing that the judges wanted more.
Claus Hassing came to the audition, which was shown on Danish TV Saturday evening, singing his own version of Queen's I Want To Break Free. Unfortunately for him none of the four judges turned around to indicate that they were interested in working together with him leaving him out of the competition. Claus participated in the Dansk Melodi Grand Prix in 2008 together with his wife Anne-Marie singing Come On Over. They made it to the final via a semi-final, but finished 6th in the final that was won by Simon Mathew and his All Night Long.
After that experience Claus, who sings in a Bryan Adams tribute band, threw himself into one talent show after the other. First in "X-factor" where we made it to the bootcamps, but was kicked out just before the live shows. A few months later he went to TV2's talent show "Så Det Synger", where he did better and won 125.000 Danish kroner. His career still didn't kick off and as such he also tried Voice – "Danmark's Største stemme".
Claus said before the audition that he is collecting materials for an album, which he hoped the judges can help him with. He also said that should he not make it he might decide that it is over as he is tired of it not being his turn, but he added that he on the other hand thinks it is quite fun to make TV.
What Claus did not manage; making it from a Dansk Melodi Grand Prix two other former participants did and in the coming months EuroVisionary will follow Ida Lohmann in Voice – Danmark's Største Stemme and Ulla Bjerre in X-factor.
Below you can see Claus Hassing's Danish final song from 2008 Come On Over.