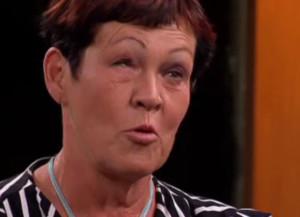 21 years after her participation at the Danish final Ulla Bjerre is back singing to the TV viewers however she has taken a somewhat unusual direction as she is to be found as one of the many hopeful talents at the coming season of X-factor. Ulla went to the audition Tuesday and last night she stood forward telling about this step.
It is not uncommon to see X – factor participants later taking part in a national selection for the Eurovision Song Contest, but the other way around is not seen that often. 55 year old Ulla Bjerre has however decided to take this unusual path to kick off her career again. In 1991 she participated in the Danish final, the Dansk Melodi Grand Prix, with the song Med Expresstog Til Kina, a duet with Ole Bredahl.
When Danish broadcaster, DR, kicks off the new season of X-factor in January 2012 the TV viewers will get to see just how far Ulla Bjerre can make it in this talent show. Her first audition took place Tuesday and she has revealed that she made it through the first cut when she sang Summertime.
Ulla says that it is now time for her to get further with her career and adds: I think the Danes should know that just because you are 55, as I am now, then you can still have a lot of X-factor in terms of a voice that wants to get out and give a good experience to the audience. She tells that the spectators all stood up and cheered after her audition and that the judges felt that she had something there. She reveals that she got through to next step with votes from all three judges.
Below you can see her Dansk Melodi Grand Prix performance from 1991 and from January you can follow her participation at X-factor.