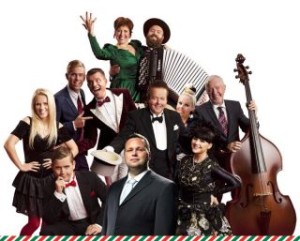 As the festive season draws closer, Christmas concerts are a common tradition throughout the Nordic countries, with Iceland being no exception. Parallel to the annual Frostrósir event, former Icelandic entrant Björgvin Halldórsson will be doing his own part in gathering colleagues and big names to bring a bit of festive cheer to the crowds.
The 2011 edition of Jólagestir (Christmas guests) will be the sixth time Björgvin Halldórsson arranges this event, with previous concerts being held in 1987, 1989, 1995, 2007 and 2008. The popular crooner has always managed to attract big names within the Icelandic musical industry to participate in his shows, and this year is no exception.
Featuring in this year's show are no fewer than 3 former Eurovision participants : Jóhanna Guðrún Jónsdottir (Iceland 2009, Söngvakeppni 2011), Páll Óskar Hjálmtýsson (Iceland 1997) and Pálmi Gunnarsson (Iceland 1986, as a member of ICY), as well as the driving force behind the event, Björgvin himself, who represented Iceland back in 1995 with Núna in Dublin. Alongside major Icelandic names, Halldórsson has also managed to get hold of platinum selling recording artist Paul Potts to throw some foreign glitz over the proceedings.
Stars taking part in the show share their thoughts as to what starts Christmas for them, with Björgvin telling fans that for him, Christmas begins "when I hear Nat King Cole sing The Christmas Song". Jóhanna finally relaxes for the holidays when "my mum and I start to make traditional Christmas biscuits and put up decorations." Páll Óskar on the other hand knows that the festive season is at hand "when there is nothing but silence" and Pálmi Gunnarsson knows that Christmas is upon us when "The reindeer refuses to leave the house"!
The show will take place on Saturday the 3rd of December at the Laugardalshöllinni, with two concerts at 4 pm and 9 pm. The concert lasts for approximately 2,5 hours. More information regarding the two concerts can be found on the official website (in Icelandic only). Gleðileg Jól öllsömul! Happy Christmas, everyone!