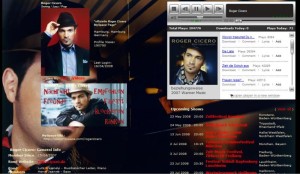 Roger Cicero's MySpace site was yesterday able to celebrate its 1 year birthday. The site has been a big success with more than 10,000 so called friends and more importantly, his music has been played more than 204,000 times.
In a message to all the friends on MySpace administrator Romy says that he is so happy about the big success for the official Roger Cicero MySpace site and that he actually needs more time just to add all those new people who want to be a virtual friend as well.
The first page was actually launched at March 1st 2007, but was deleted by MySpace. It was then re-launched the 15th of April 2007 – and a year later it now has had more than 190,000 page views, 204,000 music plays, 10,000 friends and 5,000 comments.
EuroVisionary would like to congratulate everyone involved in the MySpace site for a great job.
We are of course among Roger Cicero's friends and below you can find links to our MySpace page as well as his.
Links
EuroVisionary's MySpace profile
Roger Cicero's MySpace profile