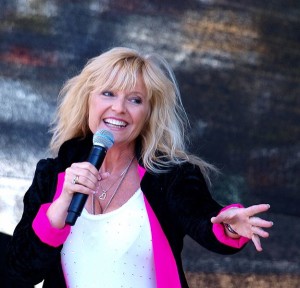 One time winner and former Norwegian Eurovision entrant Hanne Krogh appears to have a busy summer ahead, with performances pencilled in every evening from the 4th through to the 7th of July in the southern Norwegian town of Larvik.
Hanne Krogh, one half of the enormously popular duo Bobbysocks, who, together with another Eurovision veteran Elisabeth Andreassen, gave Norway their first ever win in 1985 with the jive inspired La Det Swinge. Since then, Krogh has gone on to consolidate her status as one of Norway's most popular mainstream artists in her own right. Her last studio album appeared in 1998 (Vestavind) and since then she has mainly concentrated on releasing concept albums, including well known children's songs, such as Sanger Fra Barnas Skattekammer (Songs From The Childrens' Treasure Chest) in 2002 as well as numerous Christmas themed albums, the last one appearing in 2011 entitled Vår Julekonsert (Our Christmas Concert).
Krogh has, just as her other counterparts and former Norwegian Eurovision entrants Marianne Antonsen (who together with Krogh sang as part of Just 4 Fun with Mrs. Thompson in 1991) and Anita Skorgan, created quite a name for herself, specializing in Christmas music and concerts. It was this concept that gave way to the combined artistic talents of Krogh together with the Tre Tenorer (The Three Tenors) consisting of Marius Roth Christensen, Thomas Ruud and Nils Harald Sødal. The three will accompany Ms Krogh on a journey which will take their audience to the coastal regions of Norway through the performance called Ta Meg Til Havet (Take Me To The Sea), which, incidentally, shares the same name as Hanne Krogh's album from 1992.

The show is to be performed at the Bølgen Cultural Hall in Larvik, and according to the artist's website, is billed as a heartwarming summer cabaret completely different to anything we have ever seen, with a story based on a harsh existence along the Norwegian coastline. The show has apparently managed to combine both comic elements the one minute and emotionally charged elements the next that will have concertgoers reaching for their hankies. The stories are taken from coastal communities up and down the country and have been especially woven together for the show, which by all accounts should make for a mesmerising cultural experience.
The show is to be premiered on the 4th of July, with Krogh also making an appearance on national TV shortly after the shows are finished. She will take part on the popular talk show Teige, where she will be discussing amongst other things her upbringing in the West of Norway (Haugesund), the hectic years in the mid 1980's with Bobbysocks as well as her latest musical venture, Ta Meg Til Havet.
Links