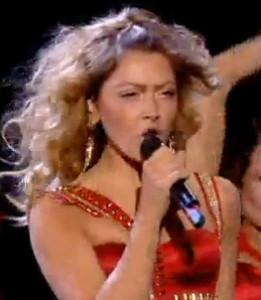 Singer Hadise is apparently still hot property 2 years on after representing Turkey at the Eurovision Song Contest in Moscow and ending up with a highly respectable 4th place with Düm Tek Tek. Popularity has its drawbacks, so it seems…
The Belgian-Turkish beauty was supposed to make an appearance at the Kanaalfeest on the 27th. June, 2009. According to Belgian tabloid De Standaard, Hadise pulled the plug on her performance a mere day prior to her appearance, leaving the concert organisers in the lurch. The excuse she gave for the cancellation was the promotion of her album in Turkey at the time, with various TV appearances.
The organisers had however signed a contract with the singer's management a few months earlier, and the last minute cancellation made the town council see red, and they decided to take Hadise to court over the matter. According to the Municipal Courts in Antwerp, the singer and her management were unable to offer sufficient evidence that the singer was actually in Turkey on the date in question. This resulted in the young singer recently being forced to pay the council a total of EUR 4.500 including all case costs. The council are said to be pleased with the verdict, Hadise however has yet to comment on the story.