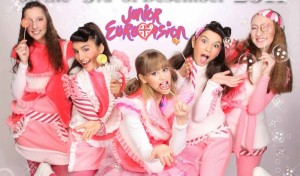 The 2011 Junior Eurovision Song Contest in Yerevan is getting closer and Group Candy from Georgia will be using a new mix of the song and have prepared a promotional video with a 70s and 80s theme.  The girls wear afro wigs in the video of Candy Music which has a retro disco sound.
Group Candy are Irina, Mariam, Ana, Gvantsa and Ira.  The girls have been very busy since winning the national selection in Georgia.  They have been mixing their important studies with rehearsals and making the promotional video.
A new mix of the song will be used in Yerevan from the version used at the national selection.  The song has been composed by Giga Kukhianidze with the girls.  George composed the winning song for Bzikebi in 2008 and also wrote the 2010 entry by Mariam Kakhelashvili.
The girls have had success individually in Georgia. 
Ira has had success in local festivals and cultural events and is also a good tennis player having finished in 6th place in the national age related Georgian championships.
Ana won first place in a music festival in FYR Macedonia and was Discovery Of The Year in the talent tv show, Nichieri.
Irina has Armenian background and will celebrate her birthday on the final of Junior Eurovision this year. She participated in a popular festival in Turkey and is popular on the Rustavi 2 channel in Georgia.
Mariam has won several talent shows including the New Star of 2009 in Georgia. She also won a competition a youth piano contest.
Gvantsa won the Cheerful Notes competition in Georgia and was successful in an international song competition performing I Love Tbilisi.
The 2011 Junior Eurovision Song Contest will take place on 3 December at 19:30 CET.
You can see the video for Candy Music below.