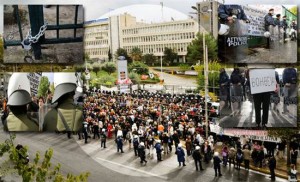 At 04:15 am this morning, riot police raided the ERT building in Athens. Since the closure of the former state broadcaster in June, sacked ERT employees had defiantly carried on broadcasting from the premises. Greek Eurovision participation still not secured.
During its
long history as the Greek state broadcaster, the Elliniki Radiofonia Tileorasi
(literally Hellenic Radio-Television) had been a national institution. Apart
from being the official broadcaster of the 2004 Olympic Games, ERT  also hosted the 2006 Eurovision Song Contest
in Athens.
In
June, citing budget management issues, the Greek government decided to shut
down the company and replace it with a sanitized smaller broadcaster. The shock
closure of ERT resulted in over 2,500 employees being made redundant and heavy
criticism for the government.

There has
been an interim broadcaster, Dimosia Tileorasi (Public Television), put in
place until ERT's proper replacement, NERIT (New Hellenic Radio Internet and
Television S.A.),
is launched. Indeed, it has been argued that repossessing the ERT headquarters was vital in
order to make NERIT operationally viable.
It is not known when NERIT will go on air; its launching appears to be crucial for a
possible Greek participation in the 2014 Eurovision Song Contest to be
considered by the EBU.
You might also like to read: