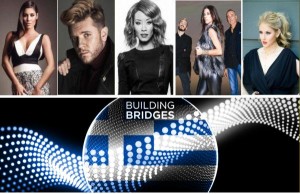 At a special press conference in Athens today the five candidate songs for the Greek national final was released together with details about the national final which will be held on Wednesday the 4th of March. Venue and hosts of the show had been presented as well.
Finally after months of rumors and half messages the puzzle of this year's Greek national final has been completed. Broadcaster NERIT and organiser MAD TV presented the five candidate songs for the upcoming Eurovision Song Contest. Last week NERIT through its radio programme released 30 seconds snippets of each song, now they are available in full versions. Videos of the songs were filmed last week in a popular shopping center of Athens. 
Today we also had and the announcement of the two hostess of the Greek national final and things points towards a good chemistry among them as they are known to be two very good friends: Mary Synatsaki (Journalist) and Doreta Papadimitriou (Actress).
The Greek National final will take place on Wednesday the 4th of March at "Enastron" night hall and will be broadcasted live from NERIT at 20.00 CET. As in the past three years it will be organized by MAD TV.
As interval act we will se Helena Paparizou who this year celebrates the 10th years anniversary of her victory in Kiev in 2005 with My Number One. The members of the former band ONE that represented Cyprus in the Eurovision Song Contest in 2001 and reached the 6th place with their song Gimme will also be in Athens for this year's Greek national final.
The songs competing to represent Greece this year: 
C Real with Crash and Burn (music/lyrics: Takis Damashis)
C Real is maybe the most famous modern pop group in Greece with a career of more than 15 years. Their entry is in their known style of pop/rock added some greek elements in it. You can watch the song here.
Thomais Apergi & Legend with Jazz kai Syrtaki (music/lyrics: Christos Papadopoulos, Giannis Sinnis)
Thomais returns to the Greek National Final after her previous attempt two years ago. It's the only song with greek lyrics. A jazz/folk song about sun, wine and Greece in all over it. You can watch the song here.
Barrice with Ela (music/lyrics: Niclas Olausson & The Beatbox, Victoria Chalkitis)
Barrice is a young tallented singer with Russian origin. He sings a very dynamic pop song with a mpouzouki in the bridge. It's a type of song which Greece previously did well with. Maria Liraraki who was choreographer on many Greek entries in the past will be also the choreographer of Barrice's stage presentation in the Greek Final. You can watch it here.
Maria Elena Kyriakou with One last breath (music/lyrics: Efthivoulos Theoharis, Maria Elena Kyriakou, Alexandros Grammatopoulos)
Maria Elena is a Cypriot singer and was the winner of last year's The Voice of Greece. This is the only ballad in the Greek preselection and a song that might appeal to the older viewers. You can watch it here.
Shaya with Sunshine (music/lyrics: Shaya Hansen /Thomas Reil /Jeppe Reil/ Marios Psimopoulos)
Shaya is a Danish singer that has lived and worked in Greece the past decade with big succes. Her entry is a pop song using a traditional greek instrument "klarino". Shaya is currently first in the polls for winning the Greek National final. You can watch it here.