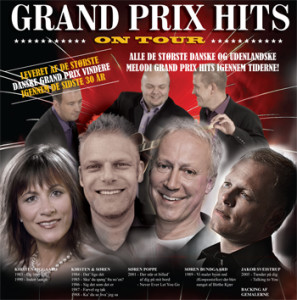 On the 9th of March four Danish Eurovision Song Contest participants kick off for a list of concerts. Søren Poppe from Rollo & King, Jacob Sveistrup and Kirsten & Søren will entertain the audience around the country with both Danish and international Eurovision hits. 
For Eurovison Song Contest followers Kirsten & Søren aka Hot Eyes are among the biggest names as they represented Denmark a total of three times in the international contest accieveing great positions; in 1984 they came 4th with Det' Lige Det, in 1985 11th with Sku' Du Spør' Fra No'en? and finally in 1988 they ended 3rd with Ka' Du Se Hva' Jeg sa'?. The latter Søren repeated the year after when he went on stage together with Birthe Kjær singing Vi Maler Byen Rød. Officially Kirsten Siggaard and Søren Bundgaard split up after their last participation, but from time to time they still perform together – like in relation to the opening of this year's Dansk Melodi Grand Prix week where they gave a concert in Aalborg Kongres & Kultur Center the week before the Danish final took place in the same city.
For Grand Prix Hits On Tour they will once again get together and this time also with two other former Danish winners; Søren Poppe and Jacob Sveistrup. Søren represented Denmark on homefield in 2001 with Never Ever Let You Go as a part of Rollo & King. The band split up in 2002 after only releasing two albums despite their fantastic second place at the Eurovision Song Contest where they were leading several times being close to secure Denmark the victory two years in a row.
Jacob Sveistrup represented Denmark at the Eurovision Song Contest in 2005 with the song Talking To You, which ended 9th with 125 points. He has released two albums, the last one in 2006.
Grand Prix Hits On Tour starts on the 9th of March in Ramsø, near Copenhagen and ends on the 31st of March in Horsens, in Jutland. The entire tour schedule is as follow:
| | |
| --- | --- |
| Date:  | Location:  |
| 9th of March 2012  | Ramsø Forsamlingshus, Ramsømagle |
| 10th of March 2012  | Torvehallerne, Vejle  |
| 15th of March 2012  | Herning Kongres Center, Herning  |
| 16th of March 2012  | Aabybro Mediecenter, Aabybro  |
| 17th of March 2012  | Gørlev Hallen, Gørlev  |
| 18th of March 2012  | Ferritslev Fritidshus, Ferrislev, Fyn  |
| 23rd of March 2012  | Portalen, Greve  |
| 24th of March 2012  | Broskolen, Korsør  |
| 30th of March 2012  | Værket, Greve   |
| 31st of March 2012  | Horsens Ny Teater, Horsens  |
Below you can see a video of Kirsten & Søren's performance of various Melodi Grand Prix and Eurovision Song Contest hits performed in Aalborg on the 14th of January 2012.