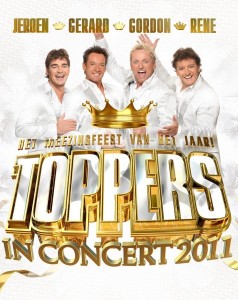 The Dutch soap opera about Toppers, that represented the Netherlands at the 2009 Eurovision Song Contest, can now add a new chapter to its story as Gordon announced today that he will leave the band. It is far from the first time the band changes constellation, and it probably won't be the last either. 
Gordon says that he will finish this year's round of concerts with Toppers, but won't be with the other three current members for next year. He wants to focus on his TV career and his other group, Los Angeles, The Voices.
It was a fight between Gordon and Gerard Joling that let to the latter leaving the band shortly before they were to represent the Netherlands in the Eurovision Song Contest, something Joling already did back in 1988 with the song Shangri-la. He was replaced with Jerome van der Boom that then together with Gordon and third member René Froger went to Moscow with the song Shine, a song that failed to reach the final.
Later they managed to settle their disagreements as Joling once again became a Topper making them a group of four. Time will tell for how long Gordon manage to keep himself out of the popular group that has now problem filling the largest arenas in the Netherlands.
For this year's Toppers in Concert Glennis Grace, who represented the Netherlands in 2005 with the song My Impossible Dream, will appear as one of the guest singers. This series of concerts takes place in the Amsterdam ArenA on the 27th, 28th and 29th of May.