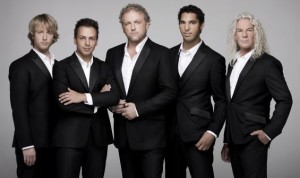 Gordon will try anything to return to the Eurovision stage. He was one third of the trio De Toppers who shone in Moscow for the Netherlands in 2009 and has since attempted to represent the Netherlands last year with his other project LA The Voices. Determined to let nothing stand in his way, Gordon is trying again, only this time for Switzerland.
The popular singer has the Alpine nation in his sights, as he and his fellow group members Remko Harms, Richy Brown, Roy van den Akker and Peter William Strykes have agreed to exchange clogs for cuckoo clocks, as they submit an entry into the Swiss selection this year. Gordon is hedging his bets, as he for one is almost  certain that Dutch broadcaster TROS will indeed settle upon sending an established artist to Malmö next year, namely rocker Anouk. He was quoted in various Dutch media as saying: "It was brought to my attention that Switzerland is holding an open selection, and considering that TROS almost certainly will choose Anouk, the Swiss selection was probably the only opportunity my band will have to make it to Eurovision."
According to Dutch Eurovision sites, the group have selected three songs from material they are currently working on for their new album: Wild White Horses, Change is Gonna Come and Guiding Light. All three songs will be made available on the songfestivalweblog and RTL Boulevard sites from the 6th of October for 24 hours. During that time, fans will have the chance to select which song they think has the best chances to succeed in the Swiss selections. The winning entry will be announced as part of the program Life4You on the 7th of October. All three entries are to be found on the group's forthcoming album, Geloof, Hoop en Liefde (Faith, Hope and Love) which is due for release at the end of January.
The star maintained that the singers in no way mean to betray their Dutch roots in attempting to compete under another flag, morever he sees it as a win-win situation for the Dutch: "Of course we hope that L.A. The Voices do manage to go all the way in Switzerland, then the Netherlands will have twice as big a chance of making it to the final in Eurovision." Gordon remains optimistic, with mere weeks to go before the nine Swiss finalists are made known. Whatever the outcome, he feels this is a unique opportunity for the group to win acclaim outside of the Netherlands, after all, any publicity is good publicity.