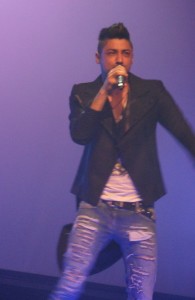 Glen Vella from Malta made a surprise appearance athe Euro Fan Cafe in Malmö.  He took to the stage and performed three Eurovision songs.  He was also congratulated as it is his birthday today.
Glen Vella represented Malta at the 2011 Eurovision Song Contest in Germany with the song, One Life. Glen gained many fans at Eurovision and was welcomed back by the grateful audience at the Euro Fan Cafe.
Glen opened his set with his 2011 Eurovision song, One Life.  Then he gave the the audience a couple of surprises.  First he performed This Is My Life by Euroband (ESC Iceland 2008).  He finished his show with a rousing version of the winning song from Toto Cutugno, Insieme: 1992 (ESC Italy 1990).
After his performances Glen was wished Happy Birthday and the audience sang their congratulations to him.
Glen will now head back to Malta but before departing he confirmed his support for Gianluca Bezzina for the second semi-final on 16 May and even began a little chorus of the song, Tomorrow.
You may also like to read –