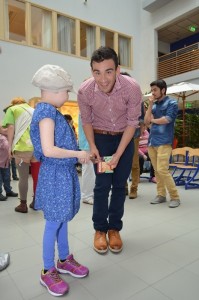 Gianluca Bezzina will soon take to the stage to perform the Maltese 2013 Eurovision entry, Tomorrow.  Gianluca is a qualified doctor and today he spent an emotional day at a childrens hospital in Lund, Sweden.
Gianluca Bezzina spent a day with the sick children at a hospital in Lund. The children are suffering from heart problems and cancer and are being treated in a special hospital.
Gianluca entertained the children and the purpose was to bring some joy and happiness to them.  He sang along and practised Tomorrow and other songs with the children.  He did a little show with his backing singers and band.  The show was viewed by the children and their parents.
Gianluca was then invited to an opening of a radio therapy department where he sang in accapella style.
TVM from Malta and the Swedish broadcaster, TV4, were there to cover the event.
Gianluca and the Maltese team were happy they could bring some happiness to the patients and it was a very emotional day for all that took part in this visit.