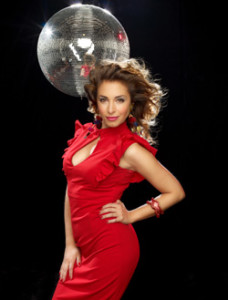 In the coming days the musical version of the play written by Juan Carlos Rubio, Esta Noche No Estoy Para Nadie that could be translated as Tonight, I'm Not In The Mood, will see its premiere. Gisela, the 2008 Andorran Eurovision representative, performs the role of one of the protagonists.
Gisela became known to the audience in the first edition of the Spanish talent show Operación Triunfo and in 2002 she was one of the backing singers for the Spanish representative Rosa López. She came back to the Eurovision Song Contest in 2008, this time representing Andorra, with Casanova.
Since then, she has recorded five albums and several songs for the original soundtrack of Disney's movies and she has worked as an actress and singer in musicals such as Grease or Peter Pan.
Currently, Gisela is working on a new project of her career as a musical actress playing the role of Alma in the play Esta Noche No Estoy Para Nadie. It is the story of a mother and a daughter, with opposite characters, who are forced to live together given the economic straits in which they have found themselves after their respective divorces. During a crazy night with the visit of their respective former husbands, the most intimate fantasies and hidden desires come to light causing a storm of laughter and misunderstandings.
The story is set in 1981 and the play takes place in a small, shabby and uncomfortable apartment. Juan Carlos Rubio, the author himself, will direct this new version with the original music and lyrics by Raul Gama and Isabel Montero. Besides Gisela, the cast of the show features great artists such as Kiti Manver, Bruno Squarcia and David Ordinas.
From today until November 6 the audience may attend the dress rehearsals of the show that will take place in the theater José Monleón from Leganés, Madrid. Admission is free until all seats are taken and tickets can be picked that day at the box office.
Then, the play will begin its national tour that will take them through many of the major Spanish cities. Confirmed dates so far are as follows:
10/11-11: Córdoba – Teatro Góngora
16-11: Jerez – Teatro Villamarta
17-11: Roquetas de Mar – Teatro Auditorio
24-11: Santurtzi – Serantes Kultur Aretoa
30-11: Murcia – Teatro Romea
14-12: Plasencia – Teatro Alkázar
Twelve original songs have been composed for this show and one of them can be heard in the promotional video below: