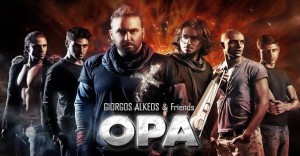 Lead singer of Greece's Eurovision 2010 entry, Giorgos Akaios, is due to release a greatest hits album in December 2011, titled Déjà vu. Tracks included will span his 20 year career, which has produced five platinum and nine gold albums. The release will contain new interpretations of some of his most famous songs.
Since competing in Oslo, receiving 140 points and ranking 8th with his song OPA, Akaios has been channelling his talents into a new venture; holiday accommodation on the island of Milos, Greece. The property known as Salt has been restored with much love and attention from Akaios, whose grandmother came from the island. In addition to ten rooms for guest accommodation the property has a recording studio, where Akaios has been working his magic re-interpreting his songs. Akaios showcases some of his music on the website for Salt, giving potential guests and existing fans a taste of his melodic, Oriental-inspired compositions.
Akaios has a robust international fan base, including a dedicated following in Australia, which has a large Greek population. He has performed around the world, including Cyprus, USA, Canada and Australia. His songs have been re-recorded by artists in countries as diverse as Sweden and Turkey.
The greatest hits album has been mixed and mastered in Australia, USA and the UK and will be released on 24 December 2011, which is also Giorgos Akaios' birthday.
Links