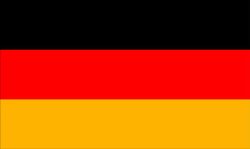 Unser Song für Malmö (Our song for Malmö) – that is the official title of the German final for the 2013 Eurovision Song Contest. The show will be hosted in Hannover on February 14th. A number of 8-12 known acts will participate and the winner will be chosen in a three-part voting.
After three years of casting shows to select the German representative for the Eurovision Song Contest the national broadcaster Das Erste/NDR decided to try something different again. Today it was announced that the German act for Malmö will be chosen on February 14th, 2013. The show will take place at the TUI arena with 11000 seats in Hannover, the capital of Lower Saxony.
At the moment a committee consisting of seven people (five representatives of record labels, Thomas Schreiber from the broadcaster NRD and Jörg Grabosch from the production company Brainpool) select the entries and acts who will finally take part in the show. A total number between eight and twelve well-known acts will compete for the ticket to Malmö.
The winner and German representative will be determined by a three-part voting. One third of the votes will come from nine young and modern radio stations. One week before the show the radio stations Bayern 3, Bremen Vier, 1LIVE (WDR), Fritz (RBB), HR 3, MDR Jump, NDR 2, SR 1 Europawelle and SWR3 will present the acts and entries to their listeners who can afterwards vote for their favourites in the internet. The result will be published during the show on February 14th.
The remaining two third of the votes are delivered by the TV viewers via televoting and SMS votes and a jury that consists of five known entertainment- and music experts.
Tickets for the event can be ordered from today on via the website www.unser-song-fuer-malmoe.tv and are available at prices of 19,90€, 27,90€ and 36,90€ (including presale fee).
The two-hours lasting show will be broadcasted by Das Erste live at 20.15 CET. More information about the participants and the hosts of the show are expected to be revealed in December.