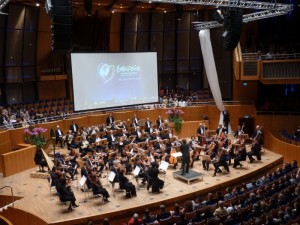 Düsseldorf the 9th of May 2011
Dear Diary,
What does StarWars have to do with the Eurovision Song Contest? And who puts a marothon together with a Eurovision Song Contest? And who thinks journalists should starve due to a football match? Aparantly the Germans do. 
We have really experienced quite some unusual things the past few days. The opening party is a chapter all for itself! First it was a freaking nightmare to get invitations for it as capacity was significantly lower than every before. If you got one then the colour of it decided which parts you had access to. They operated with 9 different colours – 7 of them had "All Area" written on them, but here in Germany "All Area" aparantly doesn't mean what it says.
In the past we have seen opening party's being a big Eurovision party, but the German's decided to do that differently. If you were among the lucky ones who got in you were seated in the theatre where it was held, Düsseldorf's mayor held a short speech followed by EBU's excuitive supervisor Jon Ola Sand. After that we were ready to begin the party… or rather not. A symphony orchestra played the Starwars theme, but at that time Dana International had already left, like a true diva. After that theme you could walk around in the theatre and talk to a few of those participants that didn't leave already at this point. After 30 minutes though there were not many left.
Yesterday morning offered the first sign of that this would be a day different from the others. Several journalists didn't manage to get to the press centre in time as public transport some places in Düsseldorf had closed due to a marathon run taking place. It wasn't much easier driving with more than half of the roads blocked. We already have two big events taking place at the same time with the Eurovision Song Contest and the Interpack concention so why not throw in a third… or what about a fourth?
The local football club here in Düsseldorf plays at what is the arena for this year's Eurovision Song Contest, but something as simple as this contest does not stop football so they have simply build a temporary stadium right next to the press centre and yesterday that came in use for a football match. Unfortunately that football match also required the use of the cafeteria so suddenly we had no place to buy our food as they had closed it completely. Now, in other countries this would have been advanced in advance if something like that would happen, but that the German's didn't do. Instead us journalists had to do a whole day's of hard work on an empty stomach! Believe me you don't work that well if you haven't had anything to eat or drink for 15 hours….