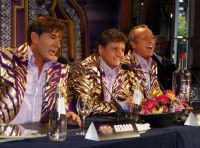 The participation of De Toppers in the next Eurovision Song Contest is in doubt after one of their members, Gerard Joling, reportedly left the group.
According to Dutch newspaper, De Telegraaf, this is the result of a disagreement between himself and Gordon, another member of the group. The disagreement stems from the documentary which broadcaster TROS wanted to make which would follow the group in the build up to the contest. Gerard also has a contract with SBS, a commercial broadcaster, which prevents him from doing such a programme with another company.
Gerard is quoted as saying "No more Eurovision Song Contest, no more real-life soap and no more concerts with De Toppers. It's disappointment after disappointment, and I have had enough."
The situation wasn't helped when the group's manager, Benno de Leeuw, was admitted to hospital. Gordon publically blamed Gerard for Benno's health problems, which are stress related.
All is not lost and it's still possible that De Toppers will represent The Netherlands in Moscow. Gerard Dielessen, director of Eurovision Song Contest at Dutch broadcaster NOS said "We chose for the Toppers, and nothing less. We would not go to Moscow with any of the three individual singers," he said in a first reaction, adding that "the two gentlemen have proven to be good at making drama." This is a view shared by others in Dutch showbusiness circles, who are quite used to public arguments between Gordon and Gerard. Only time will tell so watch this space for further news.
Links