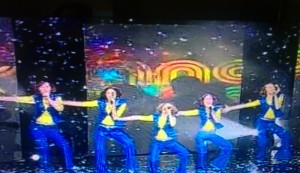 The all girl group, "Candy", will represent Georgia at the 2011 Junior Eurovision Song Contest in Yerevan, Armenia.  The girls won the national final with the uptempo and retro dance song, Candy Music. 
The Georgian national final for the Junior Eurovision took place today and was broadcast by GPB.  The show was presented by the lead singer of Eldrine, Sopho Toroshelidze.
There were 9 songs competing –
1: Group "Candy" – Candy Music – The 5 girl group performed this uptempo dance song that has a 70s feel to it.  The vocals and choreography were excellent.  They were dressed in blue and yellow jump suits.
2: Shotiko Shermadini – Gzavnili – The only boy singer in the final performed a great dance song that has the style of Lady Gaga.  Shotiko's vocals were not perfect but he made up for this with his energy and dance style.
3: Ekaterine Goglidzi – Chveni Samqaro – Another great dance song that has a nice melody.  Ekaterine has good vocals and choreography.
4: Keti Samkharadze – Aghali Dghe – A happy showtime song with a nice chorus from Keti.  The audience liked this one.
5: Kato Sulukvadze & Lika Tortladze – Happy Day Today – A lively performance by girl duo, Kato & Lika.  A modern dance feel to this song.
6: Nino Kadhadze – Metsamuli Vardi – An ethnic dance song with lively dancing and good vocals by Nino.
7: Nino Japharidze – Arqevi Khmas – The song opens gently with Nino at the piano.  She is accompanied by 2 girl dancers and 3 boy violinists.  The song then turns in to an uptempo song. Very well performed.
8: Mary Tsilosani – Chemi Gza – A lovely gentle ballad by Mary.  She appears very confident on stage and has excellent vocals.
9: Group "3T" – Daijere – This 3 girl group perform an energetic uptempo song that reminds me of Katy Perry's Firework.  A great end to the contest.
The interval act included the winners of the 2008 Junior Eurovision, Bzikebi and the Georgian representatives from 2009, Princesses and from 2010, Mariam Kakhelishvili.
All the acts then took to the stage and winning act was confirmed to be Group "Candy" with the song, Candy Music.
Group "Candy" Ira, Ana, Irina, Mariam and Gvantsa.  Good luck to Georgia at the 2011 Junior Eurovision Song Contest and congratulations to GPB for producing an excellent show with 9 very good songs and great interval acts.