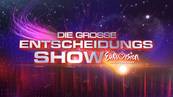 Swiss broadcaster SF was one of the first off the mark in confirming the date for their national final, set for the 15th of December. Further details surrounding their selection process was announced on the SF website today.
Schweizer Fernsehen, together with french language broadcaster RTS and Italian language broadcaster RSI are pooling their resources when attempting to find the Swiss challenger to bring the Eurovision Song Contest back to where it all began. Having failed to make the final in Baku this year with the Sinplus brothers and their entry Unbreakable and with their last top 10 showing way back in 2005 with Vanilla Ninja and Cool Vibes, the Swiss certainly have a difficult task ahead of them.
SF are inviting all hopefuls to submit their entries as of the 1st of September. Potential entries (both an audio version together with a music video) can be uploaded onto their site up until 8 am on the 1st of October. A total of four entries will advance from the qualification stages by means of both internet voting and a professional jury. According to the official broadcaster's site, internet voting will probably take place from the 15th until the 29th of October with a maximum number of four votes per user being allowed. These will account for 50% of the result, with the professional jury also constituting 50% of the final outcome. The five remaining final spots are to be given to candidates submitted from both RTS and RSI with each broadcaster being allocated three and two places in the final respectively. The eventual winner of the Swiss final will however be determined wholly by means of televoting.
All three broadcasters are naturally keen on finding a strong entry capable of defending the honour of the alpine nation in Malmö. None of the submitted entries may be longer than three minutes, but can be interpreted by one or more singers, with a maximum of six people on stage (no surpises there, then). All participants have to have turned sixteen by the 1st of May, 2013. In compliance with EBU regulations, no potential entries may have been previously broadcast in any way prior to the 1st of September. At the time of submission, the performers of all entries have to be made known – any entries submitted by composers without confirmation of artist will be automatically refused. Performers, lyricists and composers do not have to be swiss nationals, nor be presently residing in Switzerland. Further details surrounding the Swiss selection can be found on the official website.
Rest assured, Eurovisionary will keep you updated of developments surrounding the first final of the year as and when they become made known.