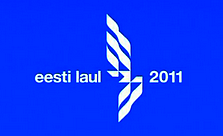 Following the deadline for entry submissions to next year's edition of Eesti Laul on December 17th, Estonian broadcaster ERR had the challenging task of sifting through 140 prospective candidates in order to find the 20 songs and artists that would make up the starting field for Eesti Laul 2011.
ERR have also decided to jump on the bandwagon that so many other European broadcasters have joined, namely with the introduction of semi finals into their selection concept for the very first time. ERR claim that these changes were made as a direct response to the apparent rise in interest for the contest in Estonia. Executive producer of Eesti Laul, Heidy Purga, went on to explain how a professional jury had the task of selecting the final 20 entries, and these will compete against each other in the two semi finals, to be broadcast from the ERR studios on the 12th and 19th February. A voting proceedure similar to last year will be employed, whereby a combination of both jury and audience (televoting) will determine which 5 entries from each semi final will proceed to the grand final, to be held on the 26th February, where the winner will be solely determined by televoting.
The list of the Eesti Laul entries is as follows:
Rolf Roosalu – All & Now
Victoria – Baby Had You
Noorkuu – Be My Saturday Night
Jana Kask – Don't Want Anything
Ithaka Maria – Hoppa-Pa-Rei!
Outloudz – I Wanna Meet Bob Dylan
Laika Virgin ft Fredy Schmidt – Ilusad Inimesed (Beautiful People)
Uku Suviste – Jagatud Öö (Share this night)
Elmayonesa – Kes Ei Tantsi, On Politsei (The Police Don't Dance)
Ans. Andur – Lapsed Ja Lennukid (Children and Planes)
Kait Tamra – Lubadus (Promise)
Janne Saar – Meeting The Wolf
Sofia Rubina – My Melody
Sõpruse Puiestee & Merili Varik – Rahu, Ainult Rahu (Peace, only Peace)
Getter Jaani – Rockefeller Street
Mid – Smile
Shirubi Ikazuchi – St. Cabah
Mimicry – The Storm  
Jaan Pehk – Valss (Waltz)
Marilyn Jurman & Karl Kanter – Veel On Aega (There Is Still Time)
Fans of Estonian entries will no doubt recognize a number of names that return in next year's edition of Eesti Laul. Mimicry took part in the national selection in 2010, as did Rolf Roosalu, who has competed for the last three years running. Ithaka Maria is another who won't give up trying, now coming back for her fourth attempt after competing in 2003, 2004 and 2009. Prolific songwriter Sven Lõhmus is also back as composer of Rockerfeller Street, Lõhmus having given Estonia their best placing since 2002 in 2009 with Rändajad. ERR have been notably more successful than neigbouring broadcaster LTV in their intake of entries in the national language, with an admirable 40% of the entries being sung in Estonian.
Links