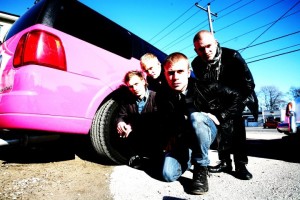 Few Days after winning the Dansk Melodi Grand Prix and the honour to represent Denmark at the Eurovision Song Contest in May the band starts a three week tour to Canada. The tour includes concerts as well as TV and radio appearances, but probably won't give them many extra votes in Düsseldorf.
The Danish participants are not known for going on promotion tours abroad between the national final and the Eurovision Song Contest and so far it doesn't appear like 2011 will be much different as A Friend In London is going to a non participating country. This tour has however been planned for a long time and was therefore not related to them winning the Danish final. 
It is not the first time the band tours in Canada where they got their big break through a couple of years ago. Until Saturday evening they were more or less unknown in Denmark where they have mainly been playing at smaller clubs and as warm up for other singers. With their convincing victory in the Dansk Melodi Grand Prix with the song New Tomorrow things might change a bit – once they come back home from Canada, that is. 
Tour schedule:
03/03/11 – Fitzrays, London, ON, Canada
04/03/11 – Lake Affect Patio Bar and Grill, ON, Canada
05/03/11 – Black Dog, Bayfield, ON, Canada
05/03/11 – Interview @ MYFM radio
05/03/11 – Interview and performance @ 104.9 The Beach radio
11/03/11 – Breakfast Television, Toronto, ON Canada
11/03/11 – CMW SHOWCASE @ Mitzi's Sister, Queens str, Toronto, ON, Canada
13/03/11 – The Foggy Dew irish Pub, ON, Toronto, 4pm
17/03/11 – Duke of Earl Pub, Strathroy, ON, Canada
18/03/11 – The Black Shire Pub, London, ON, Canada
19/03/11 – Patty Flaherty's, Sarnia, ON, Canada
Denmark will participate in the second semi-final in the 2011 Eurovision Song Contest and from there try to make it to the final they haven't missed out on since 2007. Last year Chanée & N'evergreen came 4th with In A Moment Like This.