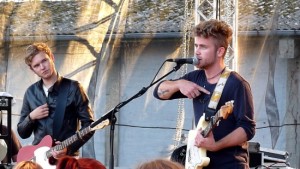 This evening Take That cancelled a concert in Copenhagen, due to a stomach flu that hit Robbie Williams. As A Friend In London heard about that, they decided to take things in their own hand, get their gear placed in front of the arena and play a free improvised concert for the disapointed Take That fans.  
The Danish band that finished 5th at this years Eurovision Song Contest with the song New Tomorrow was on the way back to Copenhagen after a concert in Jutland when they heard about the Take That cancellation. On their twitter profile they asked their fans if they should come and play instead now that Take That had cancelled. An hour later they informed that at 22:00 they would play in front of Parken, the Danish national football stadium that also hosted the 2001 Eurovision Song Contest.
While some disapointed fans will have been there to enjoy A Friend In London Danish medias are reporting that quite some fans have gathered in front of the hotel Take That are staying at in Copenhagen as they don't believe the story about the sudden stomach flu. Reports are telling how Robbie Williams last night got into a fight with the other band members and decided to sleep in his dressingroom at Parken instead. Other reports indicate that he talked to a group of fans just before the cancellation was made official and that he didn't appear sick at all – and finally then some are saying that they started taking down the stage 5 hours before the cancellation. Whether or not any of this is true or just rumours started by disapointed fans remains to be seen, at least some of them let themselves be entertained by A Friend In London.