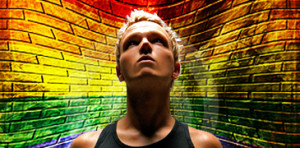 Friðrik Ómar has previously participated both as a backing singer and as a featured artist for Iceland in several Eurovision Song Contests, making him a well known face and extremely popular with many fans. Not one to rest on his laurels, he has numerous projects currently in the pipeline.
Friðrik Ómar has collaborated with none other than premier Icelandic composer and the mastermind behind many an Icelandic smash hit, including the Icelandic Eurovision entries of 2010, 2008, 2000, Örlygur Smári to compose this year's official Reykjavík Gay Pride anthem, Dáinn úr Ást (Killed by Love), which he performed at the official opening ceremony on Friday evening, the 6th August. He tells of the project on his website, saying that the song is about a man who has found love, and that he "wanted to create uplifting and positive lyrics, not just another song dealing with the struggle (for gay rights and equality)." In addition to Dáinn úr Ást, Friðrik will also be performing a few Freddie Mercury songs, which up until now have been kept under wraps.
Friðrik will be travelling on to Finland the following month, in order to appear as part of the entertainment onboard the cruise ship Baltic Princess, leaving Helsinki on the 4th September. A mere week later, he will be bringing his particular brand of stage magic to yet another European destination, namely Setúbal in Portugal, where he will be performing at a Portuguese Eurovision fan event on the 11th with Regina Ósk. Later on that same month will see the hugely popular Eurobandið get together to perform at a Gay Circus event in Amsterdam city centre from the 23rd-26th. September.
He is also putting the finishing touches to a tribute CD due to hit the shops in early October, celebrating what would have been Elvis' 75th birthday. Recordings have been taken from his string of performances at Salinn in Kópavógi, which proved to be a smash hit. Friðrik performed a number of duets, including Can't Help Falling in Love with none other than Björgvin Halldórsson (Ice 95), who is often touted as Iceland's answer to Elvis Presley. Excerpts from the concerts are due for release both on CD and DVD.
Links