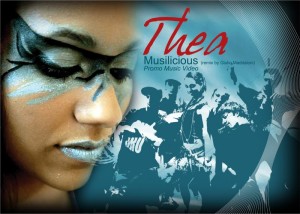 Thea Saliba represented Malta at the Junior Eurovision Song Contest in 2005 with the song 'Make It Right'. Thea is now now an established and popular singer in Malta and has now launched a brand new pop video of the song, 'Musilicious' (remix).
She has been very busy since 2005 building her music career and at the same time balancing this with her studies. She has performed in many countries besides Malta including Italy, United Kingdom, Belgium, the Netherlands and Germany. She has given many interviews to radio stations in Germany and Italy and even had a special programme dedicated to her in the Netherlands on Radio International. She has also sang in top clubs in London.
Recently, Thea has had 4 singles on the playlists of top radio stations and has set the local chart and the international top 40 and the R&B top 20 on fire.
Now Thea has launched her exciting new video of 'Musilicious (remix). This was recorded in Palermo, Sicily by music producer and remixer Giulio Maddaloni.
We wish Thea great success with this song and video and good luck with her future projects. Thea is an exciting talent and hopes also one day soon to represent Malta at the Eurovision Song Contest.