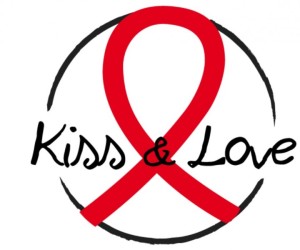 More than 120 artists, entertainers and celebrities have joined a charity project to raise funds to fight AIDS and many of them have recorded duets which are included on this album. Among them we find some former Eurovision representatives from France, Luxembourg and Belgium.
This year, the French organization Sidaction that fights against AIDS and supports those affected by this disease is celebrating its 20th anniversary. For the occasion, famous French musician Pascal Obispo has brought together over one hundred artists to collaborate on the double album called Kiss & Love just as he did in 1998 when a similar album was released for the same purpose.
The album will be distributed by Warner Music France and it consists of twenty unreleased songs sung in duet by some of the most popular artists of the French music scene among which are Françoise Hardy (Monaco 1963), Serge Lama (France 1971), Lara Fabian (Luxembourg 1988), Patrick Fiori (France 1993) and Natasha St-Pier (France 2001).
Other former Eurovision artists such as Amaury Vassili (France 2011), Anggun (France 2012), Amandine Bourgeois (France 2013) and Roberto Bellarosa (Belgium 2013) have also taken part in this charitable cause by singing the title track for the album, Kiss & Love, alongside more than a hundred celebrities. This is kind of the anthem of the project and you can watch the video below.
The profits from sales of the charity album will be donated to the French organization Sidaction in order to finance AIDS research and prevention programs, help HIV-infected people from France and 26 more countries and spread awareness of this disease.
The track listing is as follows:
CD1
1. Françoise Hardy & Julien Clerc – Seras-tu là
2. Carla Bruni & Calogero – Des heures hindoues
3. Maurane & Christophe Willem – Fais-moi une place
4. Tina Arena & Garou – J'en rêve encore
5. Nolwenn Leroy & Francis Cabrel – Lucie
6. Zaho & Yannick Noah – Voilà c'est fini
7. Florent Pagny & Patrick Bruel – Un homme heureux
8. Rose & Alain Souchon – Qu'est-ce que t'es belle
9. Claire Keim & Jean-Jacques Goldman – Ça
10. Zazie & Bénabar – Mistral Gagnant
CD2
1. Lara Fabian & Michel Jonasz – Parler d'amour
2. Zaz & Christophe Maé – Foule sentimentale
3. Joyce Jonathan & Emmanuel Moire – Si seulement je pouvais lui manquer
4. Eddy Mitchell & Thomas Dutronc – Ma petite entreprise
5. Serge Lama & Patrick Fiori – Et un jour une femme
6. Natasha St-Pier & Grégoire – J'te l'dis quand même
7. Elsa Fourlon & Laurent Voulzy – Bleu comme toi
8. Elodie Frégé & Raphael – Presque rien
9. Hélène Ségara, Liane Foly, Julie Zenatti & Chimène Badi – L'envie d'aimer
10. Cali & Pascal Obispo – Hors saison
11. Various artists – Kiss & Love
You might also like to read: