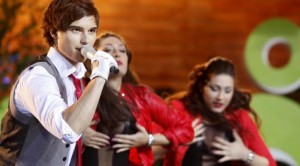 The popular swedish tv program Allsång på Skansen has been aired for decades in Sweden. Many of this years guests has represented Sweden in the Eurovision Song Contest or participated in the swedish national selection Melodifestivalen. The new host for the show is a well known name for those who followed Melodifestivalen in recent years – Måns Zelmerlöw.
The schedule for Allsång på Skansen 2011 will be as follows:
Program 1: Tuesday 28th of June:
BAO, Lunds Studentsångare, Danny Saucedo, September
Comments: – BAO (Benny Anderssons Orchestra) is a swedish band with Benny Anderssson (from ABBA – winners of ESC 1974) as musical leader and composer. One of the singers of the band is Tommy Körberg (ESC 1969 & 1988).
– Danny Saucedo was 2nd in Melodifestivalen 2011 and was also 3rd in 2009 as part of the group E.M.D.
Program 2: Tuesday 5th of July:
Håkan Hellström, Miriam Aïda, Siw Malmkvist (ESC 1961 for Sweden and 1969 for Germany, Melodifestivalen 1959 & 2004), Ulrik Munther, The Moniker (3rd in Melodifestivalen 2011), Hasse Andersson
Program 3: Tuesday 12th of July:
Elisa's, Veronica Maggio, Per Andersson, Eric Amarillo, Sara Varga (Melodifestivalen 2011), Kjell Lönnå
Program 4: Tuesday 19th of July:
Bo Kaspers Orkester, Petter, After Shave & Anders Eriksson,
Vocalettes, Pernilla Andersson (Melodifestivalen 2011), Malena Ernman (ESC 2009), Lena-Maria Klingvall
Program 5: Tuesday the 26th of July:
Hoffmaestro, Eric Saade (3rd at ESC 2011, 3rd in Melodifestivalen 2009), Caroline Wennergren (5th in Melodifestivalen 2005) Marika Willstedt, Angelica Alm, Carl Norén, Östen med Resten (Melodifestivalen 2002, 2003 & 2006)
Program 6: Tuesday 2nd of August:
Timbuktu, Patriks Combo, Fredrik Kempe, Svante Thuresson, Hans-Erik Dyvik Husby, Linda Bengtzing, Eva Eastwood
Comments: – Fredrik Kempe wrote the song that represented Sweden in 2008 (Hero), 2009 (La Voix) & 2011 (Popular). He also co-wrote the norweigan ESC entry in 2010 (My heart is yours). He also participated in Melodifestivalen 2004.
– Svante Thuresson represented Sweden together with Lill Lindfors and came 2nd at ESC 1966. Svante also participated at Melodifestivalen 1967, 1968, 1969, 1977 & 2007)
– Linda Bengtzing participated in Melodifestivalen 2005, 2006, 2008 and 2011.
Program 7: Tuesday 9th of August:
Lena Philipsson (ESC 2004, Melodifestivalen 1986, 1987, 1988, Albin Flinkas, Fredrik Meyer, Staffan Percy, Sven-Ingvars
Program 8: Tuesday 16th of August:
Sveriges Radios Symfoniorkester, Anders Berglund (conductor of many Swedish entries), Björn Skifs (ESC 1978 & 1981, Melodifestivalen 1975), Peter Jöback (Melodifestivalen 1990 & 2010), Loa Falkman (Melodifestivalen 1990).
All programs starts at 20:00 CET and will be broadcasted by Swedish Television.