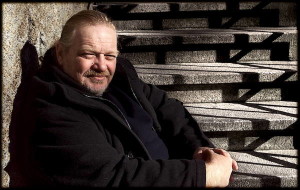 Yesterday the widow of Flemming Bamse Jørgensen met in court fighting over book royalties from an author, who was one of the singers closest friends. Bamse represented Denmark at the 1980 Eurovision Song Contest and suddenly died 1st of Januar 2011.
When Flemming "Bamse" Jørgensen past away New Year's night leading up to 2011 he was working on several projects, one of them being a book author and close friend of Bamse, Poul Blak was writing. The book was later released and now the widow Käte Jørgensen has sued the author. 
Yesterday they met in court in a nasty argument, where Bamses manager John Madsen got involved as well – on Käte's side. The book has so far sold around 10.000 copies, which is enough for Käte Jørgensen to demand 150.000 kr from Poul Blak in royalties.
Poul claims that he was very reluctant when Bamse approached him asking him to write the book. He agreed to do so, under the condition that he would not have to work together with Bamse's manager John Madsen, who he couldn't stand. He was given permission to do everything his own way – and full rights over the book, by Bamse. That is at least what the author claims. No contract was written as it was a deal among friends.
Manager John Madsen disagrees – and he supports Käte Jørgensen's case – when he says that Bamse would never make such a deal and that he, the manager, was of the impression that it was him making the arrangement with the author and that it was all discussed at a meeting at his office. Poul Blak however says that he never took part in such a meeting – and in the court room he directly asked John Madsen for proof regarding that meeting, something the manager had to admit that he didn't have.
As things stands right now no one involved in this has any written proof as it was all deals made among friends and with the main person, Flemming Bamse Jørgensen suddenly dying at the age of 63 years old he is not there to tell who is right and who is wrong. The judge will decide the outcome in 4 weeks. 
It is not the first time relatives to a former Danish Eurovision Song Contest participant ends up in fights afterwards with friends of the deceased. Just months ago the sons to Tommy Seebach went against their father's friend Torben Lundgreen wanting to release old material made together with Tommy.