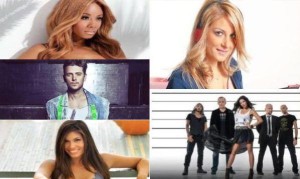 After several postponements and delays, a short while ago the official announcement with participants and more information for the Greek national final was announced. The Greek national final will take place on the 4th of March in Athens where five acts will battle it out.
At last and after a lot of delays because of the political situation in Greece, national broadcaster Nerit announced today the 5 hopefuls for the 60th Eurovision Song Contest in Vienna. In the Greek Final, which will be broadcasted live from Nerit and co-organised with MAD TV, we will see the following artists compete: (In alphabetical order)
Thomai Apergis & Legend from Panik Records
Thomai has also participated at the Greek national final in 2013 with the song One Last Kiss. She sings mostly jazz and soul and her song will be in the same style of her 2013 entry.
Maria-Elena Kyriacou by Minos EMI – Universal
Maria-Elena was last year's winner of "The Voice of Greece". She comes from Cyprus. A lot of fans supports her every music efford. Her song will be probably a ballad as she usually only sings that.
Barrice is a young Greek tallented singer of Russian origin. He is also a composer and a songwritter. A simple look at his youtube channel you will understand, that he is a popular choice. His entry will be a dynamic modern song and he migh be this year's surprise.
Creal is an old Greek pop group and maybe the most famous name in the selection. They had international success with their song Stop Killing Time and recently they collaborated with Oceana. Creal has their own pop style and they will defend that in the Greek national final.
Shaya has a Danish origin and has been living in Greece the last decade. She has had a solo career since 2008 and received many awards and nominations while she collaborated with a Greek famous composer Mark F Angelo who also competed in the Greek National Final in 2013.
Candidates was picked following a call of Nerit to major record companies. The record companies who responded chose their own candidate and song to compete in the Greek final.
The announcement of candidate songs, composers, lyricists and final artistic shape that will accompany each candidate artist will be announced in a press conference, to be held in late February. Immidiately after the announcement the songs will be available for play on TV, radio and internet.
Hosts and venue for the national final is yet to be announced.