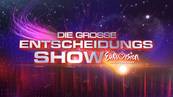 Fans have already become accustomed to Switzerland being one of the very first countries to select their entry for the Eurovision Song Contest. This year is no exception. On the official site of broadcaster SF (Schweizer Fernsehen), the first few candidates can already be viewed.
SF announced initial dates for their selection already back in July, with the deadline for song submission being set for the 30th of September and the final of Die Grosse Entscheidungsshow being confirmed for the 10th of December. The first handful of potential candidates have wasted no time, with 8 already having uploaded their entries for the selection. The following have been put forward as candidates for the internet voting heats of Die Grosse Entscheidungsshow:
ABACAY & Tommy Fresh – How Can I Feel Complete?
Andreas Hengstler – Din Wäg
Ben Pyne – When I Lost You
Biljana Obradovic Bixy – No Chance For Us
Georgea Blakey – Get Over You
John Hänni – You Love Me For Me
Maria Lawson – Champion
Sara Maria – Sieger Sein
Voting on the uploaded videos will commence from mid October, with 50% of the result being determined by internet voting, the other half coming from a professional jury. You can view the videos submitted already by clicking here.