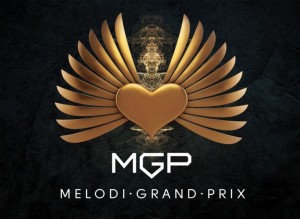 Norwegian broadcaster NRK have kept unusually tight lipped about the participants in the 2013 edition of Melodi Grand Prix, witholding information in what can be best described as a change of tactic. Fans need wait no longer, as this evening, the seven participants in the first heat this Saturday were presented on primetime TV.
Out with the old and in with the new seems to have been the motto at NRK following the departure of Per Sundnes earlier this year. With a new figurehead for Melodi Grand Prix, Vivi Stenberg at the helm, it was a case of back to the drawing board in an attempt to improve dire results which Norway has seen over the past three years. Stenberg spoke to the press before Christmas, sharing some details of the new approach. She has drafted in help from three others, all of whom have a considerable contact network and experience from the music industry hoping to breathe new life into the contest. With 600 or so entries received, they've certainly had their hands full and the selection panel were confident that some of the submitted entries have huge hit potential. Reports this week on NRK from the head of the Norwegian OGAE fan club Morten Thomassen, who was given a sneak preview of this year's entries corroborate the claim.
Contrary to previous years, no information concerning the artists has been released, with NRK implementing a presentation programme every Wednesday before each of the three Saturday heats instead. The decision has been lauded by some, but has enraged and puzzled others, with both artists and members of press alike claiming that the system is grossly unfair. The biggest bone of contention is that any established names competing will have an unfair advantage regardless, as they are already known to the general public. Any newcomers to the fold will be facing an uphill battle, having only have from Wednesday evening until Saturday to attempt to show what they can do and to make an impression.
And so the stage was set for the first in a series of three programmes due to be broadcast each Wednesday where the seven participants of each heat are presented to the public. Tonight's how confirmed the following line up for the first heat if Melodi Grand Prix 2013, taking place at the Campus Steinkjer on the 19th of January.
Semi final 1:
Song 1 Paid My Way – Vidar Busk (L: Timothy Scott McConnell / M: Vidar Busk)

Song 2 Sleepwalking – Carina Dahl  (L & M: Carina Dahl / Ben Adams / Søren Pagh)
Song 3 Det er Du (It's You) – Tom Hugo (L & M: Tom Hugo)
Song 4 Alone – Gromth feat. Emil Solli Tangen (L: Gromth /M: Emil Solli-Tangen / Sven Atle Kopperud)
Song 5 Give A Little Something Back – Julie Bergan (L & M: Ben Adams / Sara Skjoldnes / Julie Bergan)
Song 6 Catch Me –  Mimi Blix (L: Dr. Shiver / Luca Monticelli /Mauro Cottini / M: Mimi Blix / Dr. Shiver)
Song 7 Underground – Datarock  (L & M: Fredrik Saroea / Pål Myran-Håland)
So there we have them, the first seven candidates. And what a diverse mixture! Vidar Busk is without doubt the biggest name taking part in his heat, an established soul and blues artist with no fewer than eight albums to his name. Carina Dahl is back, some might remember her entry in the national selection in 2011, Guns & Boys. Tom Hugo is a new name to most of us but seemed to be very comfortable performing. Gromth and Emil Solli-Tangen (yes, you read correctly, Didrik's younger brother) are taking part in a metal-opera combo.
Julie Bergan is also a newcomer to the music scene, but a fresh voice, nonetheless. Mimi Blix will be a name familiar to some, as a result of her 2011 entry Allergic, with a similar contemporary sound. The last act to be announced, Datarock are a group that have been around for over ten years, with their songs being used by large corporations such as Apple and Coca Cola. They've released two albums with have received much acclaim and are fairly well known in their native Norway. Stay tuned on more background information on the first seven participants here on Eurovisionary. In the meantime, the entries will me made available shortly on the official NRK Melodi Grand Prix website.
You might also like to read: