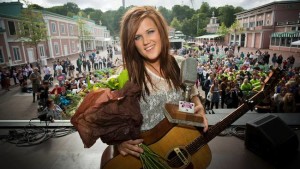 26-year old Terese Fredenwall was the jurys choice as the winner of the swedish radio talent competition "Svensktoppen nästa" held on the Sunday. This means also that she is the first selected of the 32 performers in next years swedish national selection Melodifestivalen.
As reported in an earlier article one of the news for the next years swedish national selection Melodifestivalen is that the webbjoker competition has been replaced by a talent competition called "Svensktoppen nästa" where the winner will be one of the participants in Melodifestivalen 2013. Anyone could submit their songs to the talentshow. A total of 945 songs were submitted. 25 songs out of these were picked and the final 8 went through to the final.
The final was held on Sunday 26 August on Liseberg where the first round of voting included both televotes and jury votes. The two with most votes was the group Vapenbröder and Terese Fredenwall. After a final voting round with televotes only Terese Fredenwall stood as the winner with her song Drop the fight. Terese has previously released three solo albums in her career.
In Melodifestivalen Terese will perform a new song instead of her winning song from the talent competition.
The first heat of Melodifestivalen will take place on 2 February and the final is held in Friends Arena on 9 March.