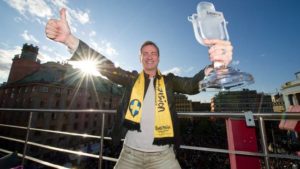 SVT has today announced the ground rules for the 2013 Swedish national selection, Melodifestivalen. Several changes have been made in order for pick the 32 songs that will be competing in the four semi-finals from where the best ones will earn a spot in the final.
In the period from the 3rd to the 17th of September songwriters who either are Swedish or working together with Swedish songwriters can upload their entries for Melodifestivalen 2013 in one of two categories.
1. If the songwriter haven't had any songs published before he or she will be participating in the new Public Contest, in Swedish called Allmänhetens competition. At least one of the songs submitted here will be given a spot in one of the semi-finals, but it can be more of them.
2. For the experienced songwriters with previously published work they will be competing in the Regular Contest. Here there is no minimum as to how many get through to the shows, but it will be a maxium of 15. If more are chosen from the public contest less will make it from this category. A special jury be be selecting the songs.
The next half of the 32 songs will be specially invited by SVT or otherwise selected by the Melodifestivalen producers.
One of the special invitations will be given to the winner of the radio programme Svensktoppen Nästa 2012, which runs this summer ending with a final the 26th of August. The winner here will be participating in Melodifestivalen with another song that in this competition in order to meet EBU's rules about the song not having been made public before the 1st of September (2012 rules).
The winner of Melodifestivalen 2013 will represent Sweden on homeground at the Eurovision Song Contest. Sweden won this in 2012 with Loreen whose winning song Euphoria can be seen below in a 3D version. We recommend watching it with a pair of 3D glasses, but if you don't have this yet it can also be turned off and watched in regular 2D in the player below.