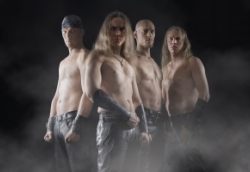 Teräsbetoni mention their participation at the Eurovision Song Contest 2008 as one of the highlights of their career when thanking fans for their support and telling them that they intend to put the band on hold for a longer period of time.
Premier ambassadors of Finnish metal music Teräsbetoni already had a hardcore following prior to their appearance in Belgrade with Missä Miehet Ratsastaa, and the publicity opened up many doors for their particular brand of Finnish metal. Their career started back in 2004, with their first concert and the performance of one of their biggest hits, Taivas Lyö Tulta. 2005 saw the release of their first album Metallitotuus, achieving sales of 32,000 copies. That's no mean feat, considering Finland has a population of just over five million and given the scope of their particular genre of music.
During the course of their career, the band have released 4 best selling albums; Metallitotuus (Metal Truth) in 2005, Vaadimme Metallia (We Demand Metal) in 2006, Myrskyntuoja (Stormbringer) in 2008 and their latest album Maailma Tarvitsee Sankareita (The World Needs Heroes) in 2010. They went on to win the award for best Finnish metal album of the year in 2005, another milestone in their career, an achievement whoch they are extremely proud of.
Teräsbetoni's adventure seems however to have come to an end for the time being. The band announce on their website that they are not splitting up, but that they are taking a career hiatus, with no new releases or performances for a long time. Abscence will definitely make the heart grow fonder for their many fans around the world.
Links