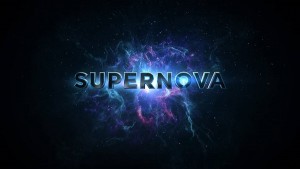 Tonight in Riga, the capital of Latvia, the Semi-final of the country's national selection "Supernova" for the Eurovision Song Contest was held. Eight songs fought for the 4 tickets to quallify to the grand final of Latvian Superniva on the 22nd of February. A combination of jury and public chose the finalists.
The national selection of Latvia is similar to what we see in other countries. There are two rounds of voting: In the first round 2 finalists are selected by a jury which in this case consists of Eve Kerēvica, Kaspars Roga (member of Brainstorm, the band that represented Latvia at the Eurovision Song Contest in 2000), Dons and Guntars Račs. The remaining six songs go to a second voting round where the public vote for their favourites via televoting. They select two more that proceed to the final.
Presenters of this semi-final, which kicked of at 20.20 CET, were Ketija Šēnberga and Toms Grēviņš.  
The 8 songs competing were:
ElektroFolk – Sundance (music/lyrics:Ainārs Majors/Arnolds Kārklis) QUALLIFIED by jury watch here
MNTHA – Nefelibata (music/lyrics:Marija Mickeviča) QUALLIFIED by public watch here
Antra Stafecka – It's The Night (music/lyrics:Antra Stafecka/Kerija Kalēja)
Framest – Ziemā (music/lyrics:Jānis Ķirsis/Inga Pizāne – Dilba)
Aminata – Love injected (music/lyrics:Aminata Savadogo, Kaspars Ansons / Aminata Savadogo) QUALLIFIED by public watch here
Markus Riva – Take Me Down (music/lyrics:Miķelis Ļaksa) QUALLIFIED by jury watch here
Rihards Bērziņš – Your Eyes (music/lyricsIngars Viļums)
Euphony – Home (music/lyricsAndris Kivičs)
Next Sunday, the 22nd of February, the final of Supernova will take place and we will find out who will win the Latvian euroticket for Vienna.