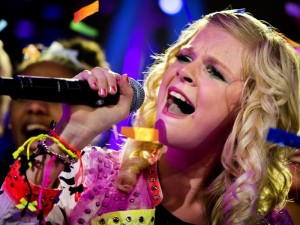 In Amsterdam everything is almost ready to host the final of the Junior Eurovision Song Contest on December 1 at the Heineken Music Hall. Last evening it was decided that 12-years old Femke will fly the flag for the Netherlands with the song Tik Tak Tik, which however might be breaking EBU's rules.
It has been a very long process for the eight candidates. During the whole summer they have been working on their preparations for the final with dance and singing lessons, filming their videoclips and recording an album with their songs.
Only five of them reached the final which took place last evening and the process by which the five finalists were elected was as in previous years. As usual, eight performers were split in two semifinals and the two winners from each live show proceeded to the final directly while the wildcard was given by the Internet voters to one of the four losers from the semifinals.
Winners of the shows were determined by 1/3 from televoting, 1/3 from the adult jury composed of Lieke van Lexmond, Ferry Doedens and John Ewbank, and 1/3 from last year's participants chaired by former representative Rachel.
Below, you can see the names of the five participants who got a spot in the final in the same running order of the show and their points on the final scoreboard:
1. Sterre – I'm Singing – 26 points
2. Melle – Dromen – 25 points
3. Femke – Tik Tak Tik – 31 points
4. Mainstreet – Stop The Time – 26 points
5. Alessandro – Una Chica Especial – 30 points
Femke was proclaimed winner by receiving the highest score by the children's jury. Now, there are some doubts of legitimacy about her participation in the competition because her entry may be breaking EBU rules on release date since she sang the same song, under a different title, at the castings last year when she failed to qualify.
You can watch Femke's performance below: