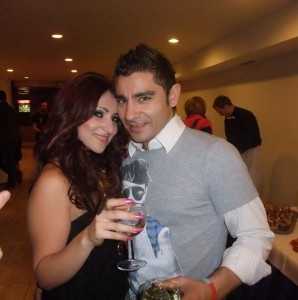 Brother and sister, Fabrizio and Claudia Faniello from Malta were special guests at the Slovakian national final on 27 February 2010.  Fabrizio was launching his new single and Claudia was invited to perform her recent Malta Eurosong.
Fabrizio opened the show by promoting his brand new single I No Can Do. This is a very catchy dance number. Fabrizio will be doing lots of promotion around Europe and Asia for his new song. He is shortly to record an exciting new video for the song. Fabrizio has previously participated in the Eurovision Song Contest in 2001 with Another Summer Night and in 2006 with I Do.
Claudia performed her popular Malta Eurosong entry, Samsara, in the interval break. Claudia performed the song with some Slovakian dancers. She gave an outstanding performance. One of the audience said "we should adopt Claudia and let her sing for Slovakia this year". Claudia has participated in previous Malta selections and came very close to winning in 2008 when she finished 2nd and 3rd with Caravaggio and Sunrise. Surely, it will not be long before Claudia graces the Eurovision stage.
STV Slovakia reported great interest in Fabrizio and Claudia. High TV ratings were received and it is known that they were particularly higher when Fabrizio and Claudia were performing their songs.