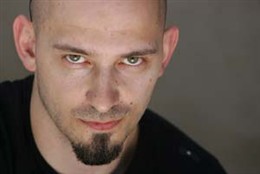 Weekend revellers who by chance happened to be at the popular venue Gamli Gaukurinn in Reykjavík were in for a rare treat, with the chance to see both Russell Crowe and Magni on the same stage!
Saturday saw the close of the cultural event Menningarnótt in Reykjavík. What was otherwise shaping up to be an exciting night with Iceland's rocker of choice Magni Ásgeirsson due to take to the stage and play a gig, got just that little more exciting. Oscar winner and Hollywood superstar Russell Crowe just so happened to be in town and was due to give a concert of all things, finishing mere minutes before Magni took to the stage!
The Aussie heart throb was in town for the filming of the movie Noah, when he suddenly requested a venue to perform at on his twitter account. The evening was extra special for Ásgeirsson, as Crowe is one of his favourite actors, and to have him on stage directly before he himself was due to perform was a pretty surreal experience. Magni spoke with Icelandic media prior to the happening, saying that "Crowe is an amazing actor, with an equally amazing list of merits, who just gets better and better as time goes by. He's one of the premier league actors, he is after all playing Noah".
And so Crowe took to the stage to perform a few numbers with friend and film maker Alan Doyle. So, how did Crowe fare as a warm up act for Magni? Well, contrary to what you'd think, Crowe isn't just  another overpaid actor with an oversized ego with aspirations to rock star status. According to reports, the "warm up" he gave for Magni was more than substantial! And with Patti Smith with them on stage, the atmopshere was electric by the time Magni took to the stage.
Since coming third with Hugarró in the Icelandic nation selection in February, Magni has released a single, Heim (Home) in June and is currently working on his new album. Fans of his can see him in action once more in September, as he takes to the stage together with other Eurovision faces in Akureyri on the 8th in the Freddie Mercury tribute concert. Others performing on the same bill include Eurovision veteran Eiríkur Hauksson (Iceland 86 and 07), Friðrik Ómar (Iceland 2008) and Matti Matt (Sjónni's Friends, Iceland 2011).