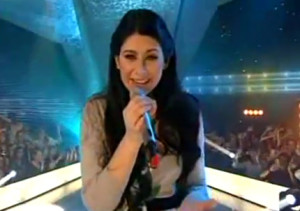 Tonight, Slovenia decided its representative and song for Baku at the final of EMA 2012 among the two acts selected from Misija Evrovizija. Some of the former Slovenian Eurovision entrants were there as special guests of the show and also participants from Misija Evrovizija and a Eurovision winner.
There has been a long way in Slovenia this year which began in the Autumn of 2011, but now it is time for the big climax. The show started at 20:00 CET from Ljubljana and it was hosted by Klemen Slakonja. The competition was between Eva Boto and the Prusnik twins. Each sang three songs which were composed by both local and well known foreign writers who were invited to submit their entries by RTVSLO, among them, the fourth times Eurovision Song Contest participant Søren Bundgaardand.
The songs: (you can read more about the participants in our Get To Know article)
Song 1: Eva Boto – Run
This song was a huge
highlight. It is quite a haunting ballad that packs plenty of power and a
passionate vocal delivery from Eva. The song begins with some truly
pretty piano and it pretty much stays that way throughout the song,
before getting heavier near the end. She wore a long green dress with a black belt. She was alone on stage during the first part of the song and at the end three female backup singers joined her dressed in black. She boasts a confidence and
assurance that is undeniable and quite impressive.
Song 2: Nika and Eva Prusnik – Konichiwa (Hello)
This
is a simple song with a simple beat but it has a likable chorus that
hooks into your brain and keeps going long after the song is over.
The lyrics are easy to memorise because almost everyone has heard this word
sometime and knows that it means 'hello'. They are adorable and funny
to watch and they gave a very nice performance of this non-typical song.
Their voices work together perfectly in this song, and one fulfills the
other. They were attired with huge red wigs and their clothes had the same design
but in different colors. They wore black shorts, corsets and belts in
bright colors. Their four female backing singers were dressed in
traditional Japanese kimonos. Their choreography routine consisted of
stereotypical oriental movements.
Song 3: Eva Boto – A Si Sanjal Me (Did You Dream About Me?)
This song contains a solid riff throughout that is just steady and like a guiding hand for the song. Her voice is just so strong and it has so much power. She wore a black dress with a wide silver belt. Behind her, during all the performance there was a female backing singer dressed in black. At key moments of the performance appeared on stage four male dancers dressed in black shirts, gray trousers and black hat. Eva joined their choreography at specific times but she seemed to be too focused on her task of singing.
Song 4: Nika and Eva Prusnik – Malo Srece (Little Luck)
They
also have thought of choreography for this song, which is typical for
the Prusnik sisters. The vocals are once again split pretty evenly here
and they mesh quite well together and once again this is a complex
track that goes off in different directions without warning and it
really makes this an interesting listen. They concentrate too much on
their nice choreography but they go off-key at times.They were dressed alike in military outfits with beige shorts, khaki shirts and kepis. This time they had three male backing singers dressed in brown shirts and ties and black pants. They interact a lot with the camera and the performance
had a lot of positive energy. Not a big spectacle but very entertaining
none the less.
Song 5: Eva Boto – Verjamem (I Believe)
This is a great ballad that offers a change of pace from the more up-tempo material. With this song she can finally show what she has and she holds her long high note superbly. The bridge is incredible leading into the final chorus. Her vocals are actually quite sweet and passionate. She wore a beautiful white dress and a black belt with a leafy motif and two white flowers. The song began with one of the backing singers who had an important role at the beginning and middle of the song. The backing singers, who were four at the end of the song, were also dressed in long white dresses and they wore a large white headdress. Best song so far and a potential winner.
Song 6: Nika and Eva Prusnik – Love Hurts
This is a pure pop song and it has a relentless melody. It is catchy and sounds quite modern. Their voices are not the strongest, but they are suited to the song though. They performed that song with an energy and enthusiasm that is quite contagious. They had a good choreography and the energy of the twins never waned. They wore long black dresses and high boots. One of them was wearing a leather jacket embroidered with the letter P in the back. With them on stage were three female backing singers and two dancers also dressed in black and carrying in their hands a silver cane.
The show:
It started with an alternative rock version of Running Scared sung by the host Klemen Slakonja. Then, the two finalists and the jurors were introduced. They were Raay, Darja Švajger, Tina Marinšek and Jonas Žnidaršic and they had an important role tonight giving their opinion to the artists after each performance.
Each act was introduced by a video remembering the best moments of the artists at Misija Evrovizija, images of a photo shoot or their appearances in the national press.
While the public was voting and the jurors were thinking about their decision we could enjoy some performances by former Misija Evrovizija's participants. They sang some Eurovision Song Contest hits as Satellite or Insieme.
Afterwards one of this year's Eurovision Song Contest participants Anggun representing France came on stage singing her entry titled Echo (You And I).
Another of

the guests tonight were the Slovenian Eurovision former participants Maja Keuc (2011),
Nuša Derenda
(2001) and
Darja Švajger
(1995 and 1999) who sang the 2002 Eurovision entry
Samo Ljubezen (Only Love)
.
Emilija Kokić who won for Yugoslavia in 1989 as the vocalist of the group Riva and the song Rock Me was also one of the special guests performing her winning entry. After her, Maja Keuc came back on stage to perform her last year's song No One.
The results:
Once the six candidate songs had been performed, the Slovenian audience and the professional jury decided which was the best song for each artist. The songs chosen to advance to the superfinal were: Verjamem for Eva Boto and Konichiwa for the Prusnik twins.
The Slovenian audience had the last word and the most voted for them was Eva Boto, who will be the Slovenian representative in Baku with the song Verjamem.
Slovenia will perform in the second semifinal of the 2012 Eurovision Song Contest on Thursday 24th May.
Bellow you can watch the winning performance: