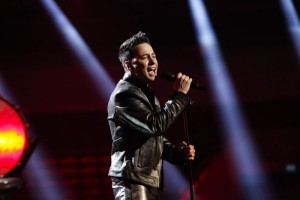 Ryan Dolan had his second attempt to live up to Ireland's name as the Celtic tiger and deliver another spectacular, dynamic stage show. EuroVisionary was on hand to follow his rehearsal to see if he could rise to the occasion once again and give an equally convincing performance.
Young Elvis look alike Ryan Dolan took to the stage for the second time, and what a stage! The backdrop is a blend of red and yellow, featuring celtic imagery with a celtic heart as the centrepiece. This turns blue mid performance. The dancers with bodhrán drums really do make for an awesome opening, equally so, the huge drumset to the right, bringing the whole Celtic theme together. Ryan is wearing the same outfit as in the last rehearsal, a black two piece leather suit and white t-shirt. Two female backing singers to his left put in a sterling performance. Although Ryan's vocals were more than adequate in the first run through, they were slightly reduced compared to his previous efforts.The backing track has been lowered a key it would seem, perhaps to help him deliver a more comfortable vocal. The synchronisation problems experienced in the first set of rehearsals has been resolved. Ryan's attacked the subsequent vocal run throughs with gusto, giving a generally feisty performance.
Ryan does as previously, standing centre stage with his arms outstreched. He's confident in front of the camera and this shows with the eye contact he makes, giving the general impression that he's having the time of his life up there, singing this potential club anthem. Pyro effects featuring a burst of sparks spread around the stage were used in the last run through at the very end of the song, providing a perfect finish for what was one of the better stage shows of the day. Really very little to fault with this set of rehearsals today and so hopefully he should secure Ireland a place in the final with comparative ease.