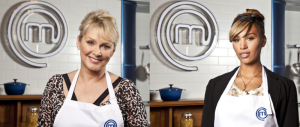 BBC features former UK Eurovision entrants in the latest series of Celebrity Masterchef.  Cheryl Baker and Javine Hylton will pit their culinary skills against 14 other celebrities.  Will they be up to the challenge in the heat of the kitchen?
The successful BBC show Celebrity Masterchef starts again and features two former UK Eurovision entrants.  Cheryl Baker and Javine Hylton hope to join former Making Your Mind Up entrant Liz McClarnon in beating 16 other famous celebrities to the top prize?
Cheryl Baker needs no introduction.  She won the 1981 Eurovision Song Contest in Dublin as part of Buck's Fizz.  This wasn't her first involvement in Eurovision, having participated in the 1978 contest in Paris as part of Co-co, singing The bad old days.  She had also been part of Co-co when they performed Wake up in the BBC's selection programme in 1976 A Song for Europe.  in 1980 Co-Co renamed themselves The Main Event for A Song for Europe and sang Gonna do my best.
Since her win she appears regularly in many Eurovision-related shows, and even delivered the UK's votes in 2005.
Javine Hylton was the UK participant in the Eurovision Song Contest in 2005 in Kyiv.  After winning Making your mind up, the UK's selection programme and beating Katie Price and Gina G, she flew the Union Flag with the song Touch my fire.  It came 22nd.
Prior to this, she had appeared in the ITV show Popstars: The Rivals, narrowly missing out on a place in Girls Aloud.  Her recording career has been fairly successful, with Touch my fire being her fifth top 20 hit.
Since Eurovision, Javine has participated in relaity shows The Games (a sports show that she won) and Celebrity Scissorhands (training to be a hairdresser) and The Underdog show (training a dog).
Celebrity Masterchef is being broadcast on UK channel BBC Two during August. 
In Denmark earlier this year, other Eurovision stars took part in the Danish edition.  Read about that competition here. 
Links