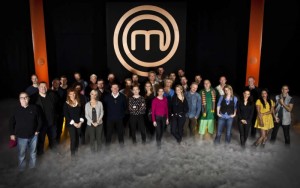 Tonight TV3 Denmark kicks off with its second edition of Masterchef where a total of 34 well known names will compete in order to determine which of them is the best cook. Among them are one former Eurovision Song Contest participant and several national finalist. 
When the new season of Masterchef kicks off tonight the Danish viewers will once again get to see famous people, not necessarily that familiar with cooking themselves, compete in front of the three judges that are professional cooks. The line-up that has been revealed contains several well known names to the world of Eurovision. 
Most well known is Jacob Sveistrup, who represented Denmark at the 2005 Eurovision Song Contest coming 9th with the song Talking To You. Among the many other competitors we however also find three national finalists. Suriya Hoffmann, who participated in this year's Dansk Melodi Grand Prix singing the dubstep song Forever I B Young is one of them and Annette Heick another one. Annette has, as the daughter of Keld & Hilda Heick, grown up with the Eurovision Song Contest, but only participated twice herself. First time in 1991 in the duet Du Er Musikken I Mit Liv together with Norwegian Egil Eldøen, which ended 4th in the national final. In 2007 she was back with the self composed entry Copenhagen Airport, which ended 7th in the final. The third one is Morten Lindberg aka Master Fatman, who participated in the Dansk Melodi Grand Prix twice. First time in 1995 he came 4th with the song Jordisk Kærlighed, the year after he sang I Nat, a duet with Jannie Høgh, which ended 5th.
The judges are the three professionel cooks Thomas Castberg, Thomas Herman and Anders Aagaard.  

The total list of participants are:
Dan Rachlin, TV and radio host
Morten Lindberg (aka Master Fatman), entertainer
Amin Jensen, TV host, comedian
Farshad Kholghi, actor
Amanda Moltke-Leth, golf player
Peter Christensen, politician
Anne-Grethe Bjarup Riis, actor
Gitte Nielsen, actor, TV host, EX-wife to Sylvester Stallone
Peter Reichardt, actor
Annette Heick, singer, TV host, 
Henning Jacobsen, actor
Rudy Markussen, professionel boxer,
Basim, singer, known from X-factor,
Jakob Sveistrup, singer
Sebastian Dorset, stand up comedia,
Bettina Aller, media boss,
Joachim Knop, operasinger and actor
Sebastian Aagaard-Williams, singer and actor
Bill Holmberg, dancer
Joakim Ingversen, TV host
Sophie Fjellvang-Sølling, professionel skicross runner
Charlotte Guldberg, actor
Lars Jørgensen, handball player
Steen Lund, dancer, dancing teacher
Charlotte Sachs Bostrup, actor and film instructor
Le Gammeltoft, DJ and radio host
Suriya Hoffmann, singer
Claes Bang, actor
Lisa Aybike Kir, Hollywood wife
Søs Egelind, actor, entertainer,
Claire Ross Brown, English/Danish actor, model and singer
Mascha Vang, former reality star, radio and TV host
Thorkild Thyrring, racing driver
Claus Elming, TV host 
Masterchef Danmark starts on TV3 Denmark the 20th of February and will be broadcasted every Monday to Thursday at 19:00 CET with a re-run the next day early afternoon.