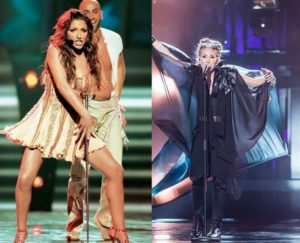 Greece and Sweden announced today two very well known ladies as their spokespersons at the Eurovision Song Contest 2015. Helena Paparizou, 10 years after her victory in Kiev, will announce the Greek points while Mariette after the respectable third place she reached in this year's Melodifestivalen will present the ones from Sweden.
NERIT, the Greek broadcaster announced today that this year's points from Greece in the Eurovision Song Contest will not be announced by Andrianna Maggania who did so the last years, but Helena Paparizou, the so far only winner. Helena celebrates her 10 years after her win in Kiev with My Number One and for her it is a great chance to be part again of the Eurovision family. Helena's last appearance in Eurovision was in 2006 when she sang her song Mambo as an interval act in the Eurovision Song Contest in Greece.
On the other hand SVT chose one of this year's contestants in Melodifestivalen. Mariete with her dark song Don't Stop Believing reached third place in the Swedish national final, Melodifestivalen and her Eurovision experience this year will continue as she will give the votes for Sweden in Vienna.  She said after the announcement: "I will try not to be rigid but I will be nervous. I will probably just be straight forward and give Sweden's votes."
Good choices for both Greece and Sweden. Will other countries follow their example and use well know singers as their spokespersons? Stay tuned for more news on EuroVisionary. 
You might also like to read: